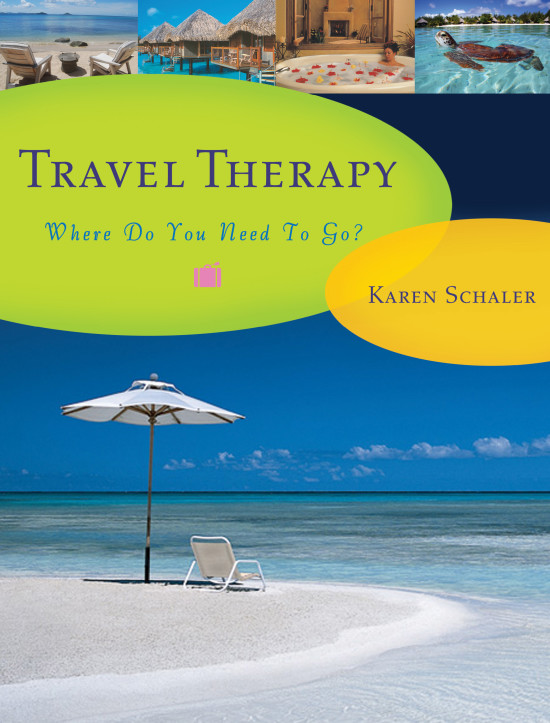 Karen's inspiring and empowering book, TRAVEL THERAPY: Where do you need to go?, features more than 100 life changing trips to take based on what you're going through in life. Stressed out at work? Going through a breakup? Need to reinvent yourself? Looking for romance or to reconnected with a loved on? TRAVEL THERAPY can help you find your way because TRAVEL THERAPY uniquely combines travel with therapy. Think Dr. Phil, The Secret and The Travel Channel all rolled into one!
Karen has traveled to more than 65 countries in search of the ideal TRAVEL THERAPY trips highlighting off-the-beaten path destinations and hidden gems as well as new emerging hot spots and traditional favorites that are re-inventing themselves.
With beautiful colorful photographs and insider tips, TRAVEL THERAPY is the one timeless reference book you'll turn to over and over again to help you choose and plan your vacations. The destinations featured are from all around the world covering everything from Africa, Europe, Mexico, North America, South America, Asia, Australia, New Zealand, Fiji, the Caribbean and so much more.
So pack your bags and let TRAVEL THERAPY help you find the vacation you can't afford to miss!
On sale now on Amazon HERE
I love this book for what it tells you – whatever you are going through in life it has the right travel therapy and destination to go – what a great concept. I can't believe that this was not written before. Love the idea and can't wait to try it out -RHolub
What an amazingly different travel book. It could be used as a coffee table book or one you stick in your bag when you travel. It is that beautiful. There are little suitcases to tell you how strenuous the trips are and a quiz at the beginning of each chapter to find out which of the three journeys you should take, based on where you are in life and what you might need to do to get a travel therapy 'fix'. -Kathy Bezold
Flipping through the pages made me feel like I was really in some of these places. The interesting chapter to me was Pay it Forward, it seems like a great way to give back!
I can also really relate to going to some of the places in the chapter called The Big Chill. I'm ready to head to the Florida Keys today! -Marybeth Jacoby